Day two and we're up early to spy on the kangaroos foraging for food outside our hut. Then we head ten minutes down the road to Flinders Chase National Park.
EXPLORING KANGAROO ISLAND
We make a quick pit-stop into the National Park Office to get a permit ($11) then it's off to Remarkable Rocks.
This cluster of sculpted granite boulders is perched on a large rounded granite dome, which drops steeply away to the sea 70 meters below.
How did it form? Thanks to the helpful signs speckled along the footpath, I can tell you.
Over 200 million years erosive forces such as wave action, heating, cooling, wetting and drying have shaped the rock, plus sea spray enters cracks and crevices crystalising, expanding and breaking up the rock.
Ten kilometres below the earth's surface the molten mass slowly began to cool. Slow cooling at great depths forms granite.
the cooled granite developed into blocks with variably spaced cracks or joints.
the overlying rock began to erode
as the weight of the overlying rock was removed the granite began to fracture into sheets or layers.
For 15 minutes we revel in having this place all to ourselves.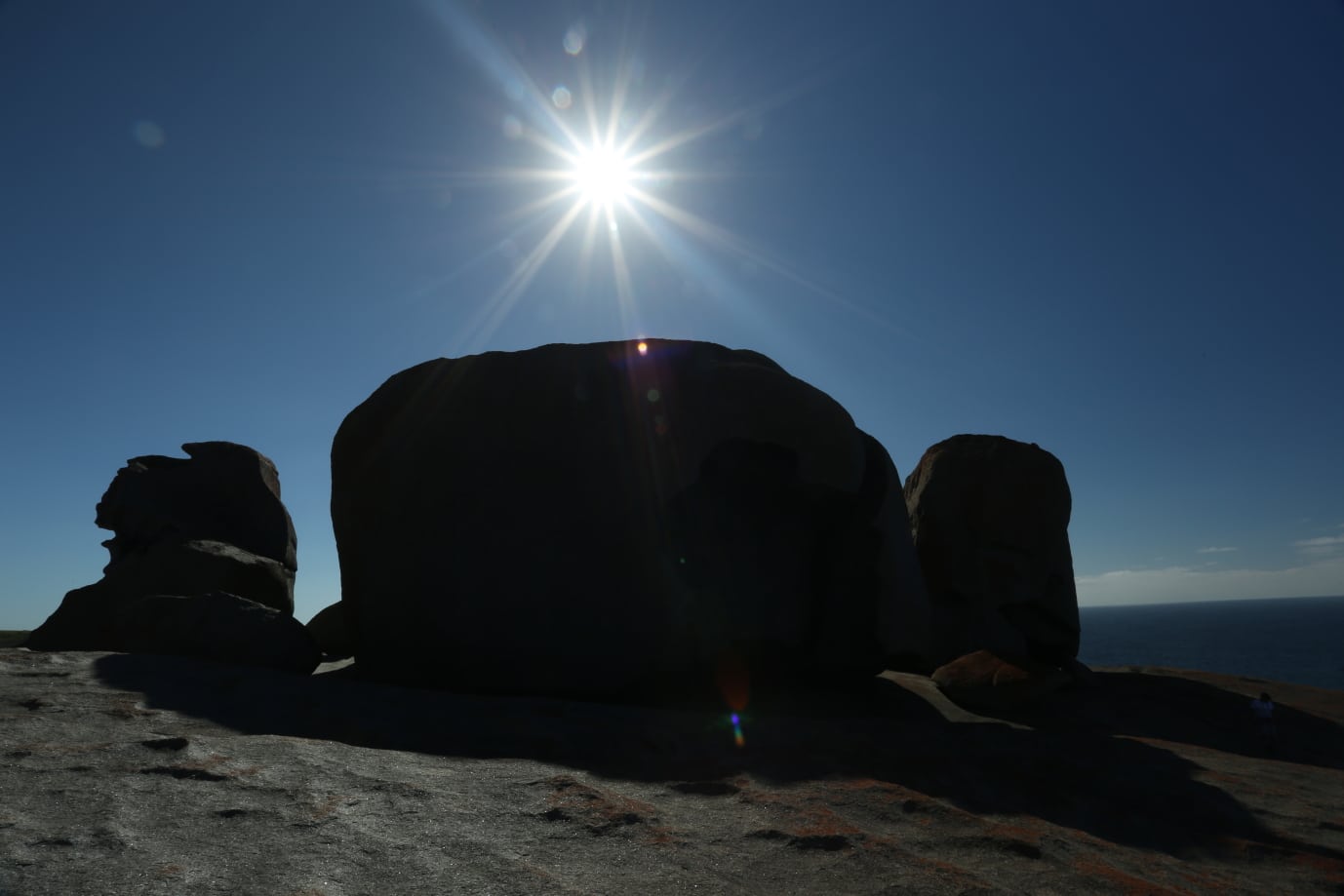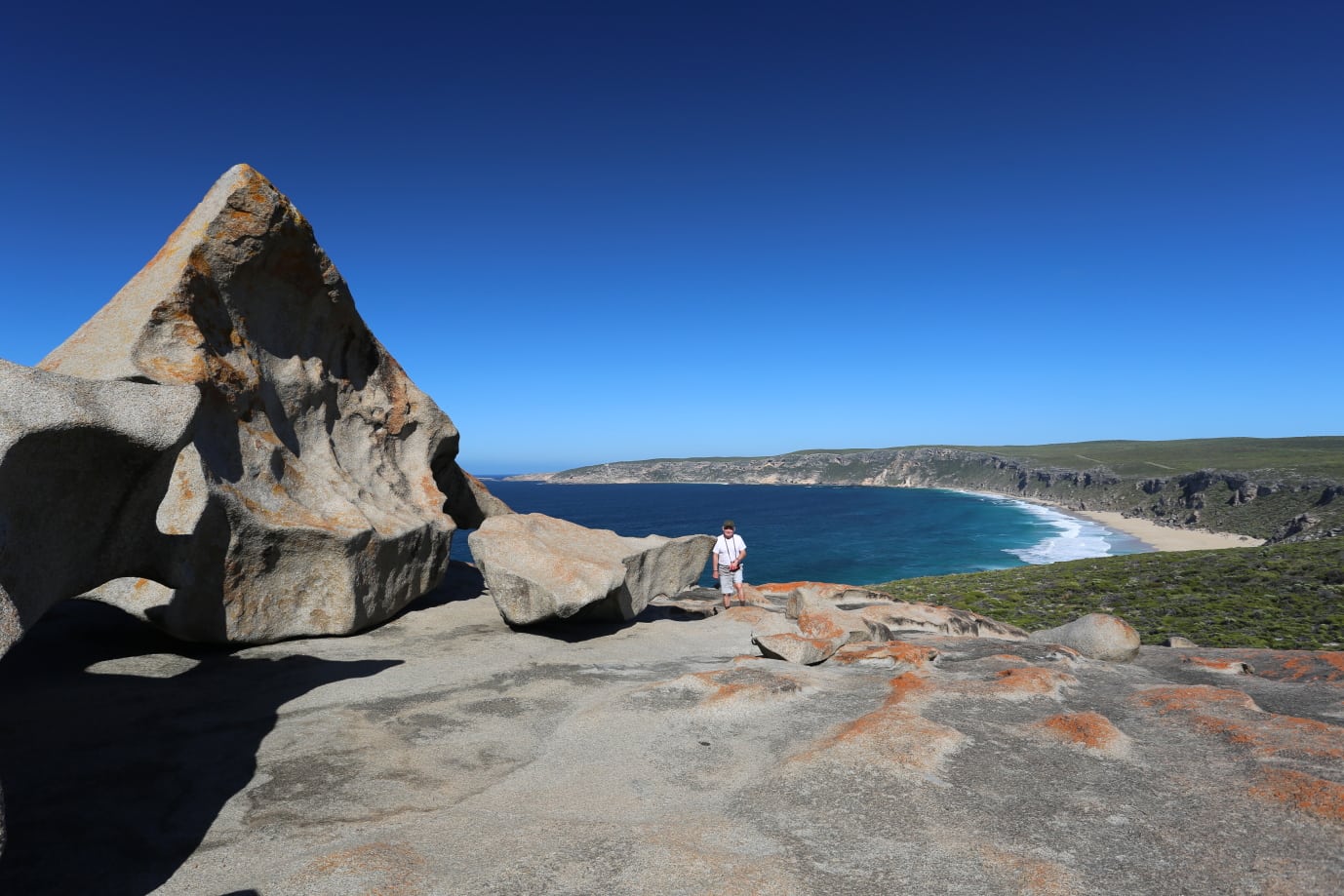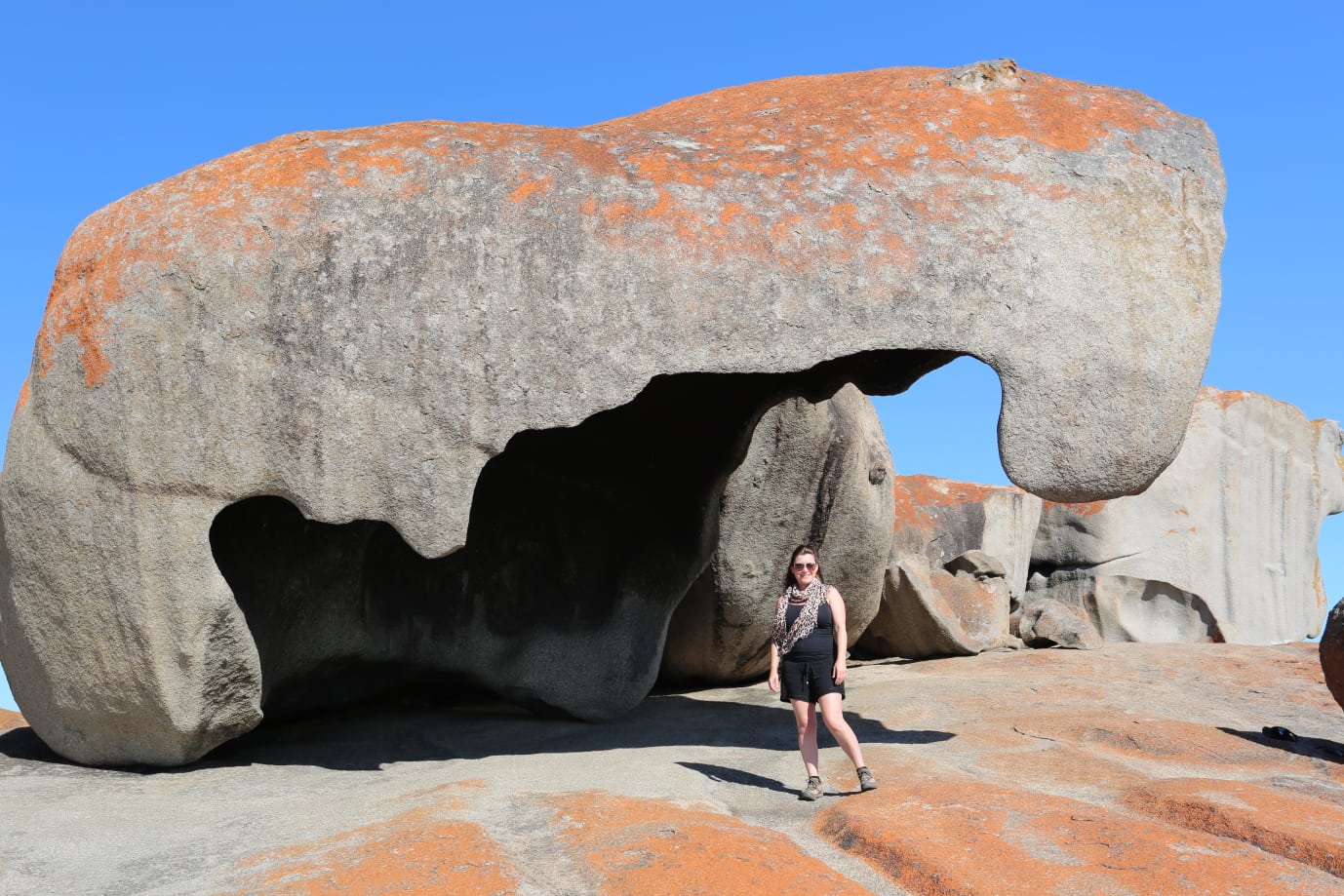 Next, we drive twenty minutes further into the national park towards Cape de Couedic Lighthouse. Then stroll down the path to Admiral's Arch, a spectacular archway formed by the relentless waves pounding the cliffs and cutting a path through the cliffs.
We spend time ogling at the amazing coastline views and watch New Zealand fur seals basking on the rocks below. A very popular spot.
Traveller's tip – if you aren't staying near the park leave Kingscote or Penneshaw by 7am. It's a good 2-hour drive and the crowds start arriving after 9.30am.

Heading east, we drive back along The Great South Road towards Hanson Bay Wildlife Sanctuary. Here, for the bargain price of $8, we stroll down "Koala Walk" and spot wild koala's lounging around in trees. The staff put a handy orange marker next to the tree where a koala has been spotted – to save you from neck ache. This place feels special and not at all touristy. If you have time, take another longer walk to search for wallabies, kangaroos, echidnas, possums and bush stone-curlews.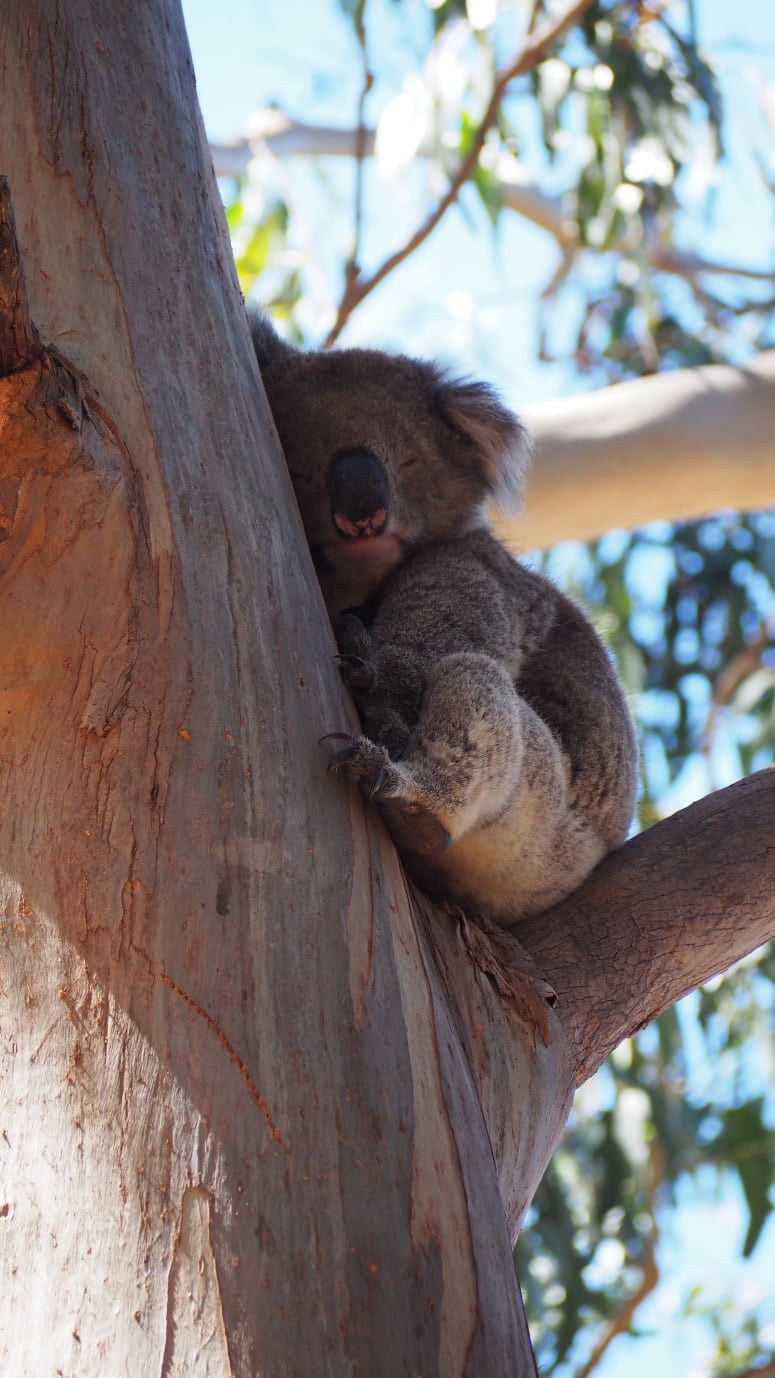 Wild koalas at Hanson Bay Wildlife Sanctuary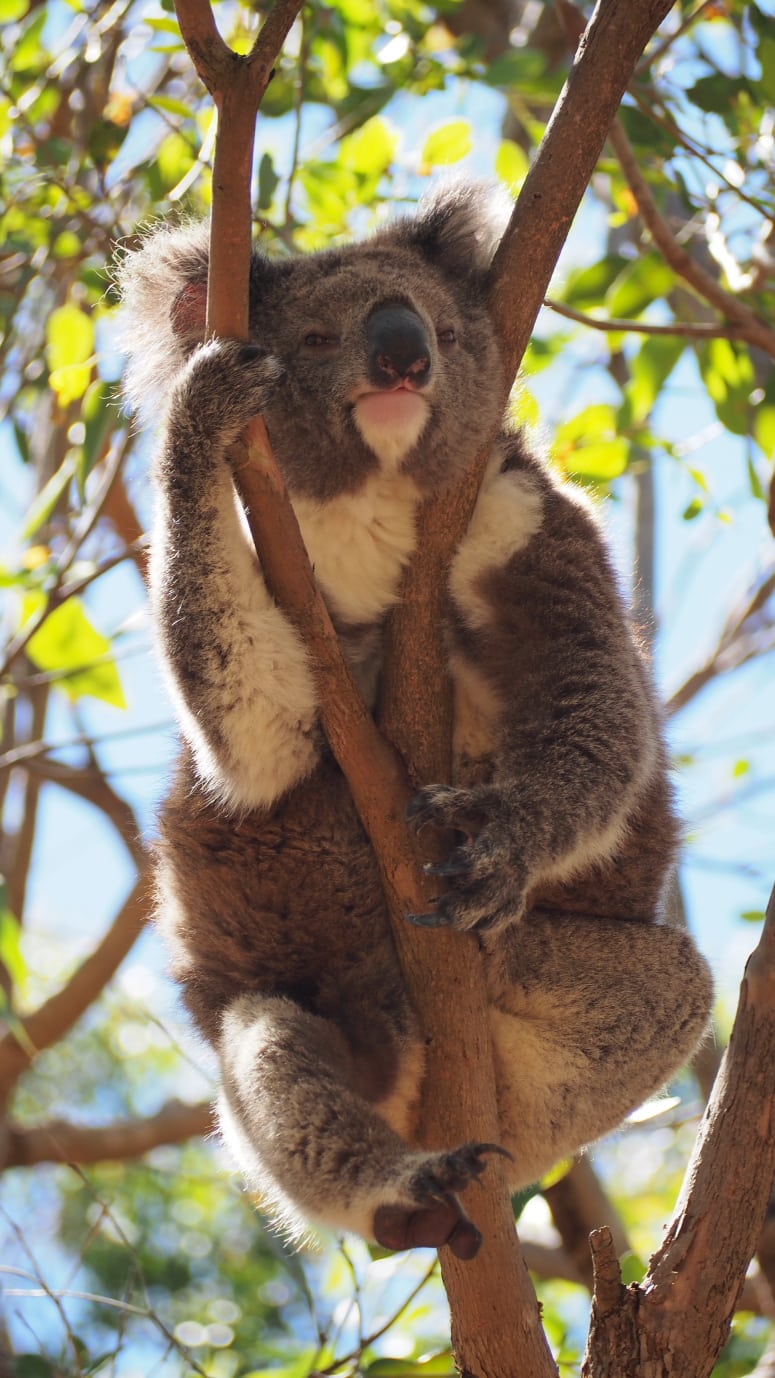 We spotted six wild koalas in the trees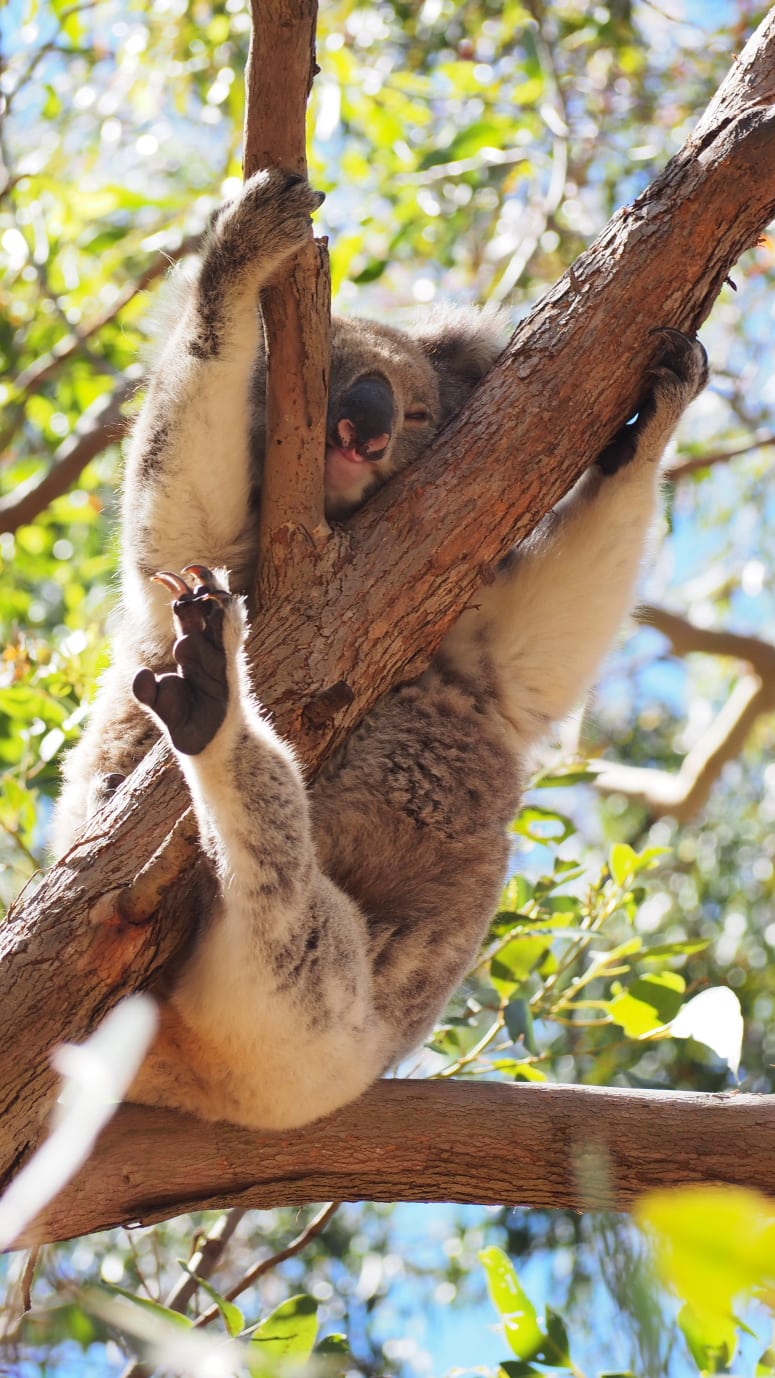 Koalas lazing around in the sunshine
8km down the road is Kelly Hill Caves and Kelly Hills Conservation Park. This is really worth the detour and the $18 it costs for a 30-min tour of these pristine limestone caves. Impressive stalagmites, stalactites, helictites and straws await us; some even growing horizontally (how is that possible?).
Continuing on, we turn right onto a gravel road and bump along for 15 minutes until we reach Vivonne Bay. Here we swim in the turquoise waters (well, technically only my father braves the cold water, I dip my toe in and shudder). For a while we have the beach to ourselves. It's idyllic and a safe spot to swim, although there's not much shade.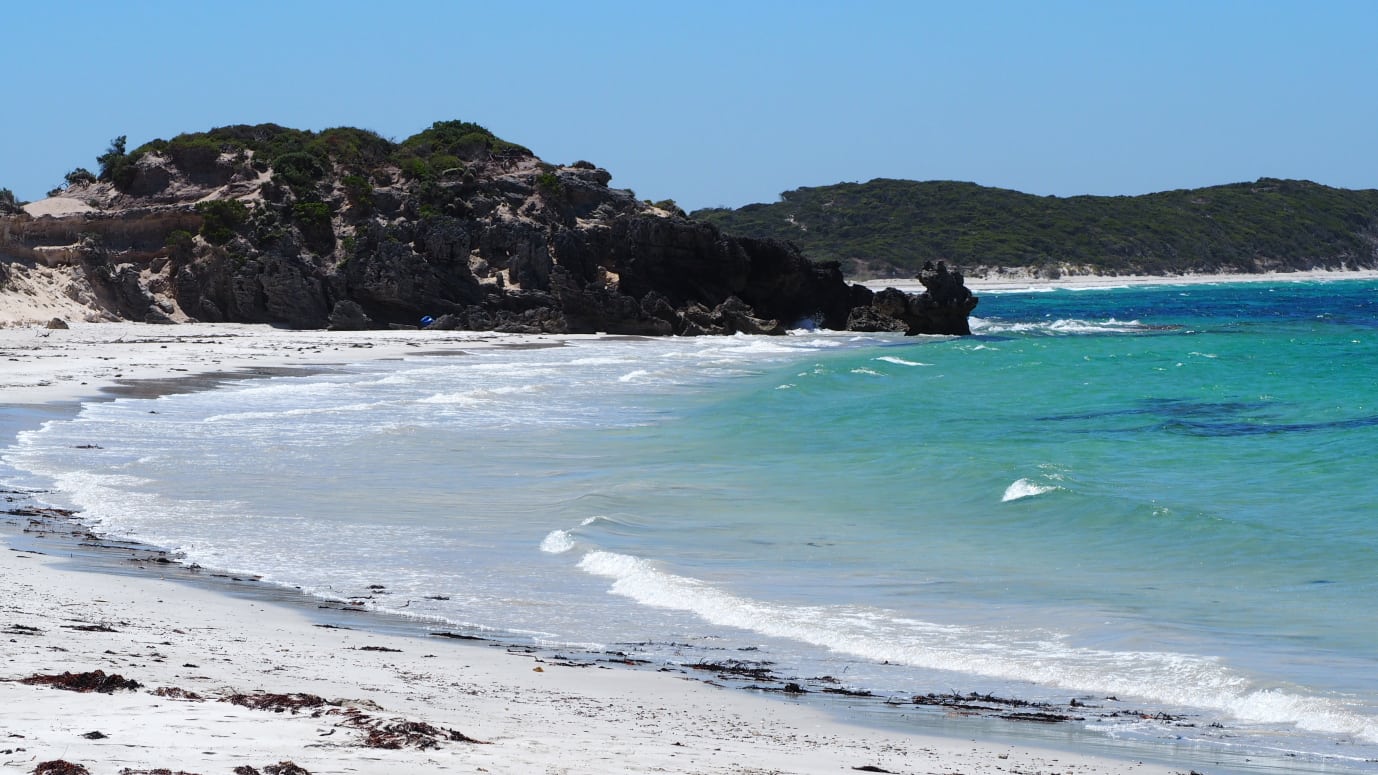 Vivonne Bay, deserted. Worth the 15 minute drive along an unpaved gravel road. 
Next, we drive to Seal Bay but decide not to do the seal tour as it cost $35! I realise afterwards we could have walked along the 800m-broadwalk on a self-guided tour for $16. Still, it feels like a rip-off, to be honest. Maybe because we've both been spoilt! We've seen seals in New Zealand and I swam with them off Montague Island, NSW. After much deliberation we drive a few minutes down the track to Bales Beach and walk along its empty windswept shores looking for our own wild seals (none spotted of course).
An hour later we roll into Kingscote and check into a lovely hotel – Kangaroo Island Seaside Inn. It's slightly out of town (ie 10-minute walk), but has a sea view and the continental breakfast is delicious. There aren't many food options in Kingscote, so we grab fish and chips at a pub in Dauncey Street.
Stay tuned for Kangaroo Island Road Trip Day three, coming soon….