Just off the northern tip of Cebu in the Philippines, is the small island of Malapascua. An island boasting white sandy beaches, idyllic vistas and beach bungalows, all nestled in between the locals' houses. The absence of car toots, loud bar music and huge hotel chains is a joy rarely experienced.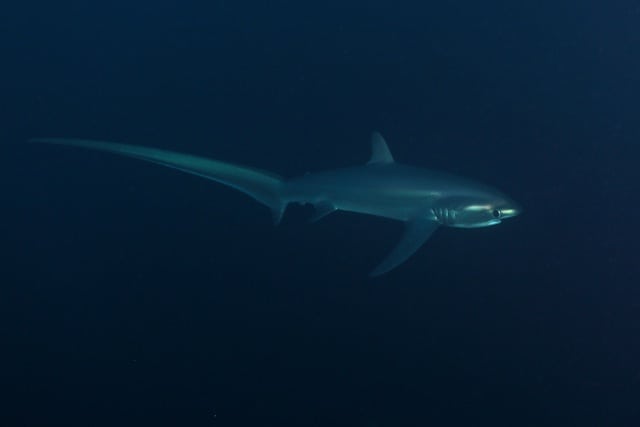 Never heard of it? If you're a mad keen diver then you might have. It's one of the few places in the world (possibly, the only), where you are guaranteed to spot Thresher sharks.
They glide up from the ocean's depths in the gloomy dawn light, like ghosts in the sea; with beautiful, sleek, streamlined bodies and it's famous tail (great for hunting!).
Recently I had the pleasure of seeing these shy and elusive creatures up close and personal. The feature article and photographs were printed in UK DIVER's January 2017 issue. For the online issue click button below.
READ ARTICLE
Of course, I discovered many other underwater delights too – Malapascua offers wreck, reef, wall and muck diving. Some of the diverse array of animals include demon stingers, pygmy seahorses and harlequin ghost shrimp.
There are 24 dive operators on the island and I dived with the fantastic Thresher Shark Divers, the oldest dive company. I found them friendly and professional, with just the amount of 'island relaxed' you want when you're diving.
Accommodation: I stayed at the Tepanee Resort, a tranquil Italian-owned resort only eight minute's walk from the dive centre. Most of the luxury cabins have ocean views. Well worth the cash.